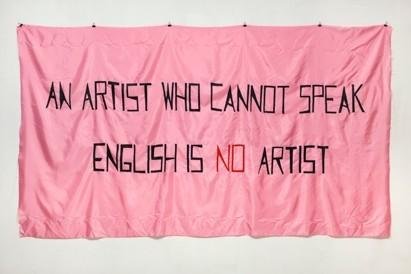 "An artist who cannot speak English is no artist* What language does art speak in the countries of former Yugoslavia?"
The ability and the wish to communicate in a certain language is an important part of belonging to a specific community and culture. "Speaking English" can be understood in the field of art as much more than simply talking and understanding. It might also refer to the visual and aesthetic rules and the narratives, as they are defined by contemporary art as a Western European and American construct.
Taking the statement* by Croatian artist Mladen Stilinović from 1992 as a starting point, the presentation is focused on the language and narration of art, which is applied by some artists from former Yugoslavia. Works by Šejla Kamerić, Igor Grubić, Petrit Halilaj, Sanja Iveković, and Hristina Ivanoska – most of them from the Art Collection Telekom – have their roots in clearly defined moments of recent history. They do not speak English, use rather a regional dialect, and are excellent examples for a narrative, which belongs to a different and new art history.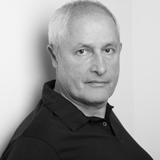 Rainald Schumacher is an independent curator at the Office for Art in Berlin. He worked as a studio manager for Gerhard Richter and Barbara Gladstone in New York and Esther Schipper in Berlin. As chief curator for the private Goetz Collection in Munich, he was responsible for the exhibition programme and publications. He curated exhibitions at the Bundeskunsthalle in Bonn and was artistic director of the City Gallery in Kyiv from 2013 to 2017. In 2015, the Office for Art curated the first Art Encounters Biennial in Timisoara, Romania. In 2010, the Office for Art initiated the corporate Art Collection Telekom with a focus on Eastern Europe. The Office for Art curates the collection and realises the exhibition programme:
2014    'Fragile Sense of Hope', me Collectors Room, Berlin
2016    'Shape of Time – Future of Nostalgia', MNAC Bucharest
2017    'Połprawda – Halftruth', Krolikarnia Palace, National Museum of Sculpture, Warsaw
2018    'I am the Mouth', MSU, Zagreb
2019    'What Are We Made Of', Kunsthalle Darmstadt
'Listen To Us – Artistic Intelligence' various sites in Plovdiv
'Trent Ans Après', Carré d'Art, Nîmes
Related links: art-collection-telekom.com
Rainald Schumacher will give a 30 min presentation on Tuesday, August 20th from 13.45-14.15 during the seminar "Looking for another space of belonging"
Seminar Full Program